Reach your Health Goals with
Global Weight Loss Surgery Solution
WEIGHT LOSS SURGERY PROCEDURES
Gastric Sleeve
Gastric Bypass
Gastric Banding
Gastric Balloon
Duodenal Switch
Gastric Sleeve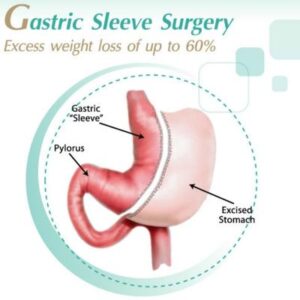 Sleeve gastrectomy is a surgical weight-loss procedure that has become increasingly popular in recent years, particularly among those suffering from morbid obesity. This procedure involves removing roughly 75% of the stomach, leaving a small banana-shaped digestive sleeve to help reduce your hunger and food cravings.
The procedure is performed through a series of small incisions in the abdomen. A laparoscope, or thin tube with a video camera on the end, is inserted and used to guide the surgeon as they remove part of the stomach. The remaining portion of the stomach is then stapled together to create a long sleeve-shaped pouch. The entire procedure typically takes about one hour to complete.
Although this surgery is considered safe and effective, it is important to note that it does involve several risks. Possible complications include bleeding, infection, and adverse reactions to anesthesia. It's also important to keep in mind that the effects of sleeve gastrectomy are not permanent, you will need to work closely with a nutritionist and exercise regularly in order to keep the weight off over the long term.
Gastric Bypass
Gastric Banding
Gastric Balloon
Duodenal Switch
BARIATIC SURGERY PRICING WORLDWIDE
BEFORE AND AFTER BARIATRIC SURGERY
PATIENT REVIEWS ABOUT BARIATRIC SURGERY